Established in 1888, ALMACO manufactures the following
research equipment:
plot combines

planters and grain drills

stationary threshers and shellers

automated seed processing lines

seed packagers

electronic data capture systems
All ALMACO equipment is manufactured by working closely with leading agronomists to develop the best built, most well-thought-out machinery for specialized agricultural practices.
ALMACO's strength lies in our ability to develop and produce custom machinery and technologies that meet the needs of the individual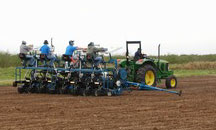 researcher.
ALMACO machinery and equipment is backed by the highest quality control in the industry. This kind of superior construction means less maintenance, fewer repairs, longer service life and a greater return on investment due to the higher number of productive hours spent afield.
ALMACO - It's quality you can count on!