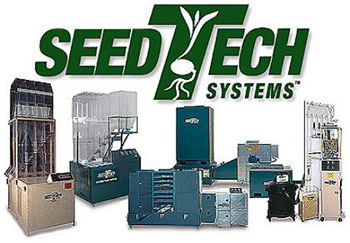 The Next Generation in Seed Technology
SeedTech Systems
SeedTech Systems designs and manufactures air density equipment and dryers for precision seed upgrading.
Our equipment is state of the art and our product line includes machines for even the smallest applications.
Seed separator uses
General cleaning
The STS-MACS can widely be ]used to clean seed by removing large particle/granular debris, chaff, inert material, pieces of broken seeds and other light unwanted materials.
Close grading
The STS-MACS can be used to "grade" seed based on density or volume weight (e.g., removal of light seed or insect damaged seed).
Stoning
The STS-MACS is effective for removing heavy debris (e.g., dirt clods, rocks, glass, sticks) from batches.
Precision upgrading
Detailed upgrading utilizing a highly sophisticated, yet user- friendly, variable frequency computer which controls air flow in each chamber. This effectively separates partially filled and immature seeds which improves the quality of the lot and, therefore, enhances seed viability and germination.