Seed coating systems
and equipment

Seed treating systems
Equipment and parts
.
Seed polymers and colorants
Universal Coating Systems (UC Systems) is a company dedicated to manufacturing seed coating and treating equipment, a full line of seed coating and filmcoating polymers, and application technology services.

UC Systems currently manufactures a full line of rotary coaters, high volume drum treaters, vibratory dryers, and conveyors at our manufacturing facility in Pratt, Kansas.

UC Systems has two polymer manufacturing sites, one in Pratt, Kansas to serve the east coast and central plains regions, and our newest facility in Independence, Oregon to serve the west coast and intermountain west.

UC Systems staff has over 30 years of experience with equipment design, manufacturing and installation, on every continent on the globe. We have done everything from the smallest laboratory system to complete large scale seed pelleting plants.

What We Do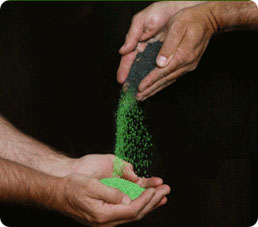 Our UNICOAT CCS centrifugal coating systems are made in chamber diameters from 12 inches up to 48 inches. The CCS systems are manufactured in our Pratt, Kansas facility where they have been built for the last 18 years. All CCS systems use the most modern PLC based electronic control packages available on the market today. All control systems use touchscreen operator interface technology. This allows for ease of system design and upgrade.

CCS systems are completely modular allowing the CCS equipment to be easily upgraded at any time. This includes changes to the PLC systems, or the pump and powder feeder delivery systems.
UC Systems also manufactures a complete line of vibratory dryers. These dryers are available in lengths of 24', 30', and 36' lengths. They are supplied with an integrated burner blower package that uses either natural gas or propane fuel supplies.

To augment our line of coating systems and dryers, UC Systems also offers conveyor systems, bagging lines, powder feeders, and pumping options. Essentially we can offer any level of plant equipment the customer requires from a single piece to a complete turn-key operation.