Cucumber green mottle mosaic virus brochure available
USA
May 23, 2014
Source: ASTA Newsletter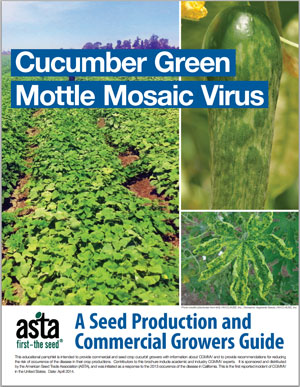 Cucumber Green Mottle Mosaic Virus first appeared in the U.S. in 2013. However, the disease affecting cucurbit species has long since been an issue in Europe, Asia and the Middle East.

ASTA and the California Seed Association, in partnership with HM.CLAUSE and other companies, has released a brochure detailing the causes and sources of the virus, how to diagnose it and recommendations for control.
Cucumber Green Model Mosaic Virus (CGMMV) is a virus/pathogen that was first detected in the U.S. in 2013 in Yolo County, California in a melon seed production field during a routine field inspection for export certification purposes.
This pathogen is considered a quarantine pest by USDA APHIS. APHIS and the California Department of Food and Agriculture (CDFA) took aggressive quarantine and abatement procedures to eradicate CGMMV and determine the source of the infection/introduction. APHIS and CDFA are still determining how to regulate seed imports to prevent further introductions.
ASTA and the California Seed Association in partnership with HM Clause and other seed industry partners, prepared this brochure to educate seed producers and others about this pathogen and how to prevent its re-introduction and spread. Members that import or produce seed such as cucumber and melon that are hosts of this pathogens are encouraged to download this brochure and distribute it to their technical staff
More news from:
. ASTA - American Seed Trade Association*
. CSA - California Seed Association *
. HM.Clause
Website: http://www.betterseed.org/
Published: May 23, 2014